Whale Watching
From our hotel in Ayampe you can enjoy a true paradise. Every year from June through September humpback whales migrate right past our front door on their way from Antarctica to their seasonal mating grounds off the coast of Puerto Lopez, Ecuador. The local Machalilla Marine National Park and surrounding areas are a natural refuge for these beautiful mammals. Famous for their shows, jumps and sounds, the whales can be seen through tours organized by local operators.
Isla de la Plata
Isla de le Plata is most commonly described in international travel guides as the small Galapagos. The island offers two hikes to breathtaking lookouts. Along the way you will pass by colonies of several species of sea birds, including blue footed boobies, red and framed, frigates, and albatross. You will also have a chance to explore the amazing vegetation of a tropical dry forest. Many times of year there are also sea lions sunning on the coastline. All this is complemented by snorkeling and whale watching between June and September.
Suggestions: We recommend that you take this journey with a qualified naturalist guide.
Machalilla National Park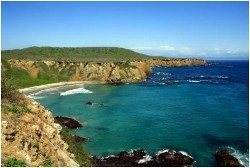 Though most famous for its fabulous displays of marine and terrestrial species, Machalilla Natural Park is also a true natural museum of the pre-Columbian history of Ecuador and South America. Throughout the park there are numerous archaeological sites displaying the long history of the most important cultures along the Ecuadorian coast, including the Valdivia culture which is possibly the oldest human settlement in South America. Research has found that the Machalilla area was an important center of regional maritime trade. One of Euador's most visited national parks, Machalilla contains more than mainland forests, the islands Salango and La Plata, several smaller islands and picturesque islets, and a marine area extends out two nautical miles from the coast.
Agua Blanca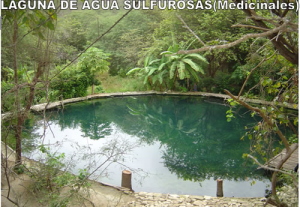 Agua Blanca is located about 30 minutes from our hotel in Ayampe and is one of the first eco-tourism communities on the Ecuadorian coast. It contains archaeological ruins belonging to the Manta people, the last of Ecuadorian prehistoric cultures.

Agua Blanca has a museum, funerary urns, thermal water lagoons known for their health benefits, and the Buena Vista valley – a perfect destination for those who enjoy bird watching. A complete tour of the museum, prehistoric ruins, and lagoon takes approximately two hours.
Los Frailes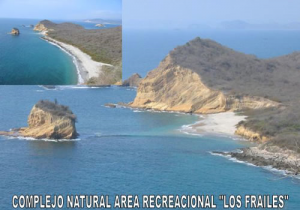 Los Frailes is considered the most undisturbed natural beach in Ecuador and has been voted the fourth best beach in South America. This area is actually a complex of beaches known for their clear waters, white sands, and impressive landscapes and rock formations.
One of the beaches in this complex, La Playita, is famous for the black color of its sand caused by a high iron content. An undisturbed dry tropical forest borders the shores, making this an even more breathtaking place for swimming and relaxing.
More Activities
There is a great range of other adventures easily accessible from Ayampe. You can hike along the Ayampe River, explore the mangroves and Ayampe estuary, partake in world-class bird watching, go horseback riding, see howler monkeys and spider monkeys, go kayaking, diving, and biking, take Spanish and yoga classes, or rent a surf board and spend your time on the beach. Whatever fits your fancy, our hotel staff is here to make sure your stay is filled with amazing memories.